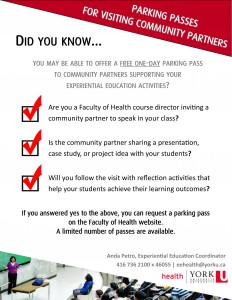 As a Faculty of Health course director you can now request a free one-day parking pass for a community partner who is visiting your class as part of an Experiential Education (EE) activity.
A limited number of passes are available, and will be provided on an as-requested basis.

Complete and submit the online request form below or e-mail the Word Document version of the form to eehealth@yorku.ca at least one week in advance of your guest's visit.
When the parking pass is ready (up to two days) the Experiential Education Coordinator will contact you (via phone or e-mail) to arrange to deliver the parking pass to your office or mailbox.
Please note:
Parking passes are issued for one of these garages: Arboretum (#80), Student Services (#84) and York Lanes (#72). Click here to view the campus map.
Your guest will only need to use the pass at the time of payment when they exit the garage- they do not need the pass in order to enter the garage.
Unused parking passes are valid until April 2017, so you can use the pass at a later date if the visit is rescheduled.
Resources
York University Keele Campus Interactive Map and PDF Map.
The  Experiential Education Common-Language document contains more information about each type of Experiential Education activity mentioned above.
The Faculty of Health Experiential Education website contains descriptions of the types of Experiential Education activities, helpful tips about how to organize each one, and suggestions for reflection and assessment.
The Teaching Commons website contains many helpful resources for writing and assessing learning outcomes and reflection activities, and incorporating Experiential Education into your courses. Below you will find a selection of the available resources.
Learning Outcomes Worksheet
Writing Learning Outcomes- McMaster University
Planning EE Activities Worksheet
Facilitating Reflection