Bachelor of Arts (BA) or Bachelor of Science (BSc)

Global health challenges, such as chronic and communicable diseases, do not recognize borders. The health of the world's population is intertwined with broader issues, including wealth disparity, environmental degradation, government policy and human rights. York's Global Health degree examines these and other issues to prepare students for careers in global health locally, nationally and internationally.
Courses
All students, whether in the BA or BSc options, are exposed to the major issues that are at the forefront of global health through core courses, including:
Canada's first undergraduate global health degree. Listed by Maclean's Magazine as one of York's "Standout Programs."
Global Health Governance and Leadership
Global Health Policy, Power and Politics
Health and Human Rights
Determinants of Health: Local to Global
Chronic Diseases and Care
Communicable Diseases and Care
Healthcare Planning for Communities
Healthcare Ethics
Agents of Change in a Global World course: The only undergraduate course of its kind in Canada, Agents of Change in a Global World examines effective change processes and the attributes of those who lead them. Students reflect on the question "Can one person make a difference?" This course uses blended learning approaches with alternating online and face-to-face learning in which students work with community organizations successfully making a difference.
Prerequisites for medical and other professional schools: The Global Health degree, covering both the life sciences and the social sciences, provides an excellent comprehensive education plus all of the prerequisite courses required for medical or other professional schools.
Real World Experience

Students have an opportunity in their fourth year to benefit from hands-on experience, applying what they learn in class out in the real world working at an organization either within the Greater Toronto Area or elsewhere in Canada, or internationally. Examples of organizations include:

Hospital for Sick Children
Black Creek Community Health Centre
Doctors Without Borders
York U's EcoCampus in Costa Rica
World Health Organization in Jordan
Amity University in New Delhi, India
Western Norway University of Applied Sciences
Post Graduate Institute of Medical Education & Research in Chandigarh, India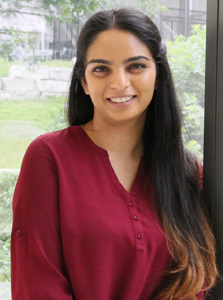 Global Health student Nishila Mehta is passionate about wanting to make a difference.
In addition to her studies and part-time research jobs at York and Women's College Hospital, she has published two journal articles based on what she learned in the Global Health program. Nishila, who wants to become a doctor, appreciates that there is more to health than medicine and that factors such as your income as well as non-health professionals including politicians, lawyers and economists, play a major role in crafting conditions for health. "I feel empowered by a changed world view with new insights into the power structures behind our society and a strengthened set of communications and critical thinking skills," said Nishila. "You learn to take complex information and explain it in a simple way – in medicine, that's a valuable skill."
Contact Us
For inquiries about the Global Health degree program, please contact:
Diane England
Program Assistant, Global Health
(416) 736-5028
globhlth@yorku.ca