The Faculty of Health is pleased to join the efforts of our colleagues across York University and at Ryerson, University of Toronto and OCAD, in establishing a 'Team Health' to raise funds and support a family of Syrian refugees.
We are committed to providing not only financial support but also the talents of faculty, students and staff who volunteer to join Team Health to ease the transition of a family to a new and healthy life in Canada.  This crisis reflects underscores our important focus on Global Health and commitment to social justice.
Join us on Thursday, December 1st from 1:00pm-2:30pm in the Master's Dining Room at Stong College to learn more about the sponsorship team, as well as hear from guest speakers and learn about how you can participate!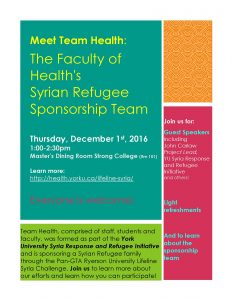 Engaging Faculty, Students and Staff for Team Health
Given the expertise within the Faculty, this Team Health project may also explore collaboration between this initiative and the Faculty of Health to build experiential learning opportunities for students to support the arriving refugees. An example may be a "health and wellness" support team of volunteer students and faculty.  Reaching out to settlement organizations and health care service providers and professionals on behalf of the initiative would also be an excellent opportunity for students to make contacts and learn more about the services provided to refugees.
How Does the Project Work?
Each team has a core group of faculty, staff and alumni, which is also supported by student volunteers. The core group responsibilities include primary contact/sponsor lead, treasurer, student involvement coordinator and a settlement lead.
As this is a pan-University initiative, each team includes a Ryerson University student, which is part of the way this initiative qualifies for its charitable status out of Ryerson as an education initiative. Team Health also has at least two York students, who will be a direct part of each sponsor team. These students will be mentored by team staff and help perform core duties of the sponsorship such as assisting with a housing search, locating resources, helping with fundraising, etc. One of the most exciting parts of this initiative is its potential to unite faculty, staff, graduate and undergraduate students to engage in important collaborative work and experiential education.
In terms of assistance, both Ryerson and York are signing up general student resettlement volunteers who will be divided into specialized support groups, depending on their area of study or personal experience.  These teams at York may include but are not limited to: Health & Wellness, Settlement (Immigration and Settlement Studies students; resource mapping, accompanying families to services, connecting to services such as English classes), Translation & Interpretation and Legal assistance (we are working to put this in place through Osgoode).
Sponsoring a refugee family from Syria is something Team Health can be proud of for life. It will be emotionally moving and satisfying as the family makes a new life for themselves, with your assistance, in Toronto. But it will take some of time and money for at least the next year, and no one person will able to undertake this task alone. Close collaboration within the team and with other volunteers to share the tasks and support the refugee family to successfully settle here will be required.
In terms of time commitment in supporting a family, the first month will likely be the most demanding as the family deals with arriving to an entirely new place and starting a new life, but over time as their comfort level in Canada increases, the need for support will be reduced.
Team Health will do the following during the first 12 months:
Meet the family at the airport and escort them to accommodation
Assist the family in finding housing and ensuring the costs for housing are covered;
Make sure that the family's needs are covered for clothing, furnishings, and food;
Make the necessary health connections;
Make sure the family is given a general orientation to the city and its transportation system;
Make sure that, most likely with the assistance of settlement service organizations, children register in school and parents in English as a Second Language classes;

Help to fill in the knowledge gaps that everyone experiences when they move to a new city or country.

Help members of the family find appropriate training or employment.
With our Ryerson and Lifeline Syria partners, the process will involve training and resources that will explain the support that can be provided throughout the sponsorship process. The Refugee Sponsorship Training Program has also produced detailed information which can be found at http://www.rstp.ca/wp-content/uploads/2014/03/27chapter7.pdf  and http://www.rstp.ca/wp-content/uploads/2014/03/31chapter8.pdf
What is the Financial Commitment?
A refugee family of four will require a minimum of about $27,000. Start-up money is used to buy household items, such as beds and pots and pans, and other items that the refugees might not have, such as winter clothing. Start-up costs – housing deposits, furniture, utilities, clothing etc. – are required at the beginning of a sponsorship, while housing, food and transportation will be ongoing expenses. If a refugee becomes financially self-sufficient during the 12-month sponsorship period, the sponsors are not obligated to provide income support for the remainder of the sponsorship. But they must be prepared to resume assistance if the refugee ceases to be self-sufficient during their first year in Canada.
Refugees resettled in Canada are responsible for paying for their overseas medical examination, travel documents and transportation costs to Canada. They may receive a repayable loan from the government to cover these costs. Sponsoring Groups are not responsible, unless they have co-signed loans, for any debt that a refugee incurs in Canada.  After the first twelve months, the formal sponsorship commitments end, but we hope that sponsoring groups will have created strong links with the family that will make them want to stay in touch.
How Can I Make a Donation?
Ryerson University has volunteered to do the collection of donated funds and administrative processing of funds for all of the sponsorship teams, an offer that has been accepted by all of the partner institutions (York, University of Toronto, and OCAD). This means that all donated funds through their online portal will be deposited into an account for each team at Ryerson. Donors receive instant tax receipts when donating through the online portal.
Go to http://www.ryerson.ca/lifelinesyria/york/index.html and click on the "Make a Donation" button, then under the Gift Information category click on the drop down entitled "Select a designation for your gift" and select Team Health (under York University Sponsor team leads). Because it is a non-York site, York payroll deductions are not currently available.
The funds each group raises will be treated like a research fund, with advances and reimbursements paid as if the group had a SSHRC fund on which they were drawing for community based research. As Team Health Treasurer, Lesley Beagrie will familiarize herself with the policies surrounding the disbursement of funds and ensure these are followed.
How Can I Get Involved?  Where Can I find More Information?
Updates, contact information and links to the York University Lifeline Syria challenge will be posted to the Faculty of Health's website at http://health.yorku.ca/lifeline-syria/ or contact a Team Health Member.