Community partners can benefit from the skills and enthusiasm of Faculty of Health students through a variety of experiential education (EE) opportunities.
"[The students] definitely exceeded our expectations.
They came with enthusiasm that was really great to work with."
- Deborah Cooper, Eli's Place
What is experiential education?
EE bridges theory and practice by engaging students in applied, hands-on experiences in the classroom or community. Community partners identify challenges and projects in their organization, and students apply their knowledge and skills to support and develop solutions. In the past, our students have worked with community partners to:
Investigate requirements for an employee accreditation tracking and management system.
Support the formal evaluation of a mentorship program.
Lead play-based collaborative games to increase physical activity.
Propose projects that support local organizations' work around a global health issue.
Support a health promotion program at a community health centre.
Visit our Gallery to see examples of experiential education in the Faculty of Health.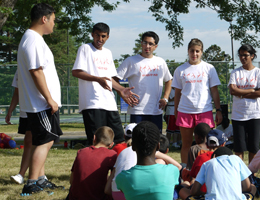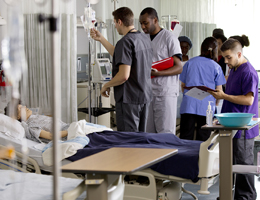 Why should I engage in experiential education?
Community engagement provides excellent opportunities to learn through experience, but it is important that the experience be mutually beneficial for both the students and the community partner. The following are just some of the ways in which partners can benefit from an experiential education partnership with the Faculty of Health. Partners will:
Have the ability to complete projects they might otherwise have to postpone due to lack of time and limited resources
Benefit from student curiosity, energy, initiative and motivation
Access a source of volunteers, board members, and even potential hires (i.e., students who have worked with a partner are vetted and partially trained candidates)
Engage with and inform the curriculum (from the perspective of "what is happening on the ground")
Develop their staff's coaching and mentoring skills as they supervise the student working in their organization
Have the opportunity for students to relay voices from the community to the classroom as they deepen their understanding of and engagement with community issues
Community partners can refer to small-scale local entities from the public or private sector to large-scale local, national and trans-national, entities. Partners may be, but are not limited, to:
Schools
Hospitals/community health centres
Community centres
Social enterprises
Think tanks
Non-profit organizations and/or charities
Government organizations
Private organizations and corporations
There are around 9,500 students in the Faculty of Health, and they belong to one of our five degree programs in: Global Health, Health Policy and Management, Kinesiology and Health Science, Psychology, and Nursing. Experiential Education opportunities are curricular, which means that students engage in them as a requirement of a course or program of study.
All students are expected to possess foundational knowledge related to their discipline. When you are connected with an EE opportunity, the EE coordinator or the course director will be able to tell you more about the knowledge and skills those particular students will be able to offer to your organization. In turn, by engaging in experiential education opportunities students will refine key competencies like: communication, teamwork, problem solving, civic engagement and critical thinking.
How do I get started?
You may contact the EE Coordinator if you have a project or initiative that would be a good fit for our students, or the EE Coordinator may contact you with an existing opportunity. We will work with you to ensure a mutually-beneficial experience.  While each opportunity will be unique in its own way, there are some key considerations to think about.
Considerations
Type of engagement
Are you considering an ongoing or project-based opportunity? What types of tasks (e.g. research, outreach, service, etc.) do you foresee students engaging in?
Duration and frequency
What time commitment would you expect from students? Would students be required to keep regular hours?
Roles and responsibilities
Are there any requirements (e.g. police checks, training) that students should be aware of? Would students work individually or in groups? Who would supervise the students?
Location
Will students need to work on-site in your organization or can they work remotely?