Farah Ahmad
Associate Professor
CIHR New Investigator in Primary Health CareEarly Researcher: Ministry of Economic Development & Innovation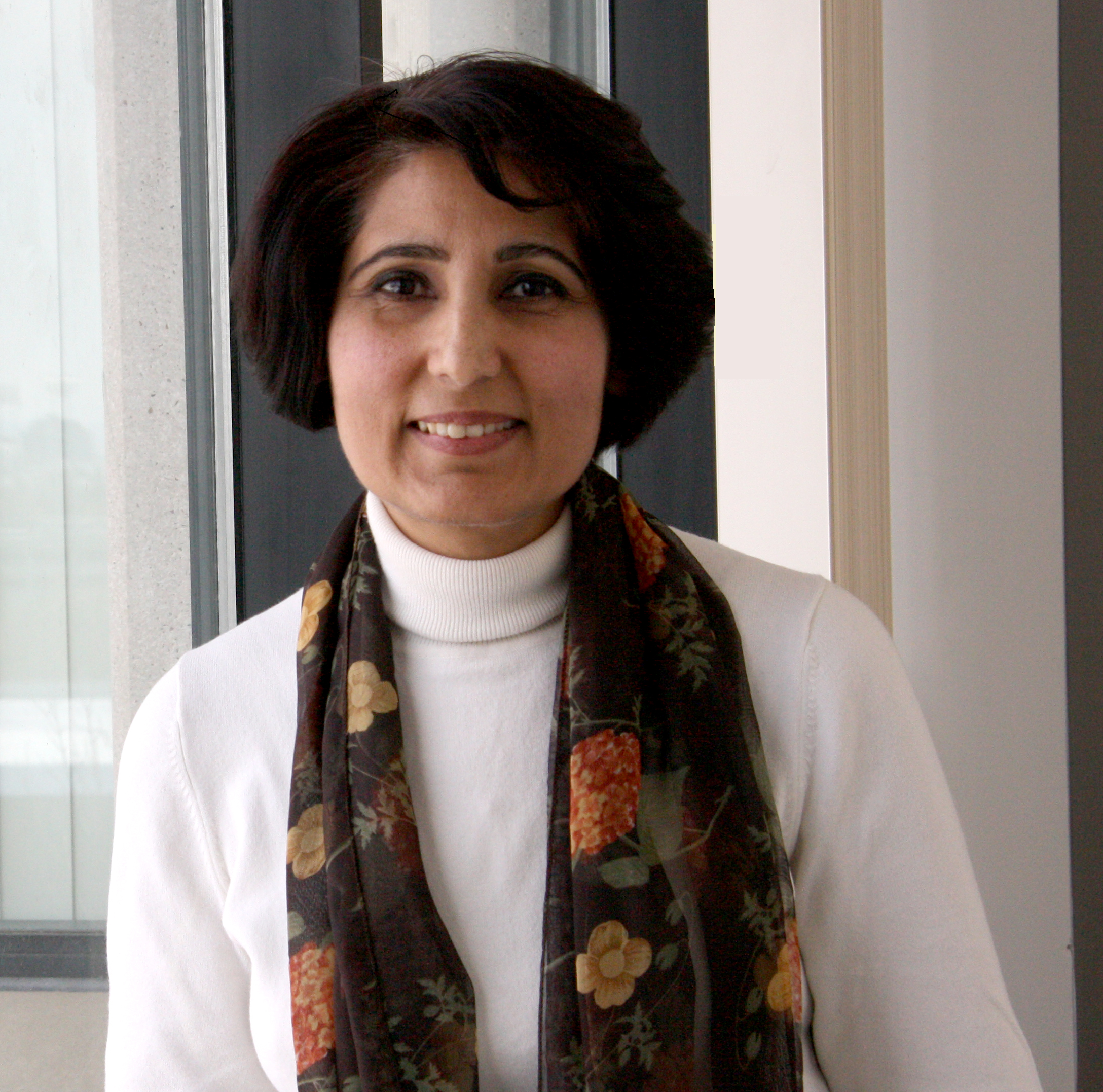 Locations / Contact Info:
Keele CampusPhone: 416-736-2100 Ext. 33898Fax: 416-736-5227
Email address(es):
Faculty & School/Dept.
Faculty of Health - School of Health Policy & Management
Degrees
PhD - 2007
University of Toronto
Canada
MPH - 1995
Harvard University
USA
MBBS - 1988
University of Punjab
Pakistan
Biography
Dr. Farah Ahmad is a health service researcher with a focus on primary care settings, psychosocial health, vulnerable communities and eHealth innovations. Professor Ahmad says "Fostering equitable access to healthcare through applied research, teaching and service is my philosophy". She uses mixed-method research designs which range from randomized controlled trials to in-depth interviews, focus groups and concept mapping. She has taught courses in health informatics, eHealth, health promotion, migration and health and research methods.
Selected Publications


Ahmad F, Jihaj AK, Stewart DE, Burghardt M & Bierman AS. Single item measures of self-rated mental health: a scoping review. BMC Health Services Research 2014; 14(1):e398.


Pajak CR, Ahmad F (senior author), Jenney A & Fisher P. Survivor's costs of saying "no" to woman abuse. Journal of Interpersonal Violence 2014; 29:2571-2591


Ahmad F, Rai N, Petrovic B, Erickson P & Stewart DE. Resilience and resources among South Asian immigrant women as survivors of partner violence. Journal of Immigrant and Minority Health 2013; 15(6):1057-1064.


Ahmad F, Norman C & O'Campo P. What is needed to implement a computer-assisted psychosocial risk assessment tool? An exploratory concept mapping study. BMC Medical Informatics & Decision-making 2013; 12(149):e11.


Ahmad F, Jandu B, Albagli A, Angus JE & Ginsburg O. Exploring ways to overcome barriers to mammography uptake and retention among South Asian immigrant women. Health & Social Care in Community 2013; 21(1):88–97.


Ahmad F, Shakya Y, Li J, Karyan K, Norman C, Lou W, Abuelaish I & Ahmadzi M. A pilot with computer-assisted psychosocial risk–assessment for refugees. BMC Medical Informatics & Decision-making 2012; 2(71); e8.


Ekanayake S, Ahmad F & McKenzie, K. Qualitative cross sectional study of the perceived causes of depression in South Asian origin women in Toronto. British Medical Journal Open 2012; 2:e00641.


O'Campo P, Kirst M, Tsamis C, Chamber C & Ahmad F. Implementing successful intimate partner violence screening programs in health care settings: evidence generated from a realist-informed systematic review. Social Science & Medicine 2011;72(6).


Ahmad F & Driver N, McNally MJ, Stewart DE. "Why doesn't she seek help for partner abuse?" An exploratory study with South Asian immigrant women. Social Science and Medicine 2009; 6: 613-622


Ahmad F, Hogg-Johnson S, Stewart DE, Skinner HA, Glazier RH & Levinson W. Computer-assisted risk screening for intimate partner violence: A randomized controlled trial. Annals of Internal Medicine 2009;151: 93-102


Ahmad F, Hogg-Johnson S & Skinner HA. Assessing patient attitudes to computerized screening in primary care: Psychometric properties of the Computerized Lifestyle Assessment Scale. Journal of Medical Internet Research 2008; 10(2):e11


Ahmad F, Hudak PL, Bercovitz K, Hollenberg E & Levinson W. Are physicians ready for patients with Internet-based health information? Journal of Medical Internet Research 2006


Ahmad F, Vanza R, Shik A, Cheung AM, George U & Stewart DE. Voices of South Asian women: Immigration and mental health. Women and Health 2005; 40(4):113-130.


Affiliations
Centre for Research on Inner City Health, St. Michael Hospital
Affiliate Scientist
CIHR-STIHR Health, Care, Technology and Place
Mentor
Dalla Lana School of Public Health
Assistant Professor (status)
North York General Hospital
Research Scientist
Partnerships
Access Alliance Multicultural and Community Health Services
Research Collaborator
Awards
CIHR Post-doctoral Fellowship - 2007
CIHR Health Research Fellowship - 2004
CIHR Health Research Fellowship - 2003
CIHR-STIHR Health, Care, Technology & Place Fellowship - 2005
Kiran van Rijn Award, Mentorship - 2013
Supervision
Currently available to supervise graduate students: Yes
Currently taking on work-study students, Graduate Assistants or Volunteers: Yes
Available to supervise undergraduate thesis projects: No
Current Research
eHealth to Transform Healthcare. Although chronic health conditions have now gained attention of policy makers and health management teams, a new challenge on the horizon is co-occurrence of chronic conditions with poor social conditions (e.g., unemployment, poor housing, food inadequacy, and low social capital). At the time of economic recession, this is a serious concern because of the decline in social conditions at the societal level and shrinking professional resources at the system level. In her research, Dr. Ahmad aims to examine, adopt and implement eHealth technologies in primary care settings to mitigate resource constraints on the health system and address health disparities by empowering communities and healthcare providers for a 'whole person' approach and development of integrated models of care. To this end, Dr. Ahmad has examined an interactive, wait-room computer-assisted health-risk assessment (HRA) tool in a Family Medicine setting. This randomized controlled trial demonstrated the tools' effectiveness in raising discussion and detection of intimate partner violence and risk of compromised mental health during clinical encounters. The qualitative studies revealed provider and patient-acceptance of the tool. Dr. Ahmad examined the HRA through further studies and has now taken the concept to Community Health Centers serving vulnerable communities. After developing and piloting the HRA tool for Dari/Farsi speaking Afghan refugees in a university-community initiative, a multi-site project is in planning.
Psychosocial Health is also a dominant stream of Dr. Ahmad's research with a focus on family violence and mental health/stress with several publications (see CV for details). Another cross-cutting theme is Vulnerable Populations with a focus on social status (i.e., gender, migration and ethnicity) determining access to healthcare. Several of her publications in the area of psychosocial health listed above fall in this domain. This focus is also apparent in her research on under-screening of cancer among ethnic women and popular modes of health promotion among ethnic immigrant women. To this end, Dr. Ahmad's significant contribution is successful development of an intervention using ethnic newspapers to promote breast-cancer screening among immigrant women. This model has been replicated by the health promotion team of the Cancer Care Ontario. She is now planning to develop and examine an 'interactive computer-assisted messaging' (iCAM) system to reach under-screened populations via primary care settings and community out-reach models.
Research Projects
Centre for Research Development on Gender, Mental Health & Violence across Lifespan.
Role: CoInvestigator
Amount funded: $2000000
Year Funded: 2009
Duration: 5
Funded by: Canadian Institutes of Health Research
Computer-assisted psychosocial risk assessment for (Farsi/Dari) refugee health and settlement.
Role: Principal Investigator
Amount funded: $30000
Year Funded: 2009
Duration: 2
Funded by: Other...
Other funding: Connaught, University of Toronto
Engaging marginalized women in breast and cervical cancer screening.
Role: CoInvestigator
Amount funded: $591164
Year Funded: 2011
Duration: 3
Funded by: Other...
Other funding: Cancer Care Ontario
Exploring wait-room interactive technology for mental health with Chinese Canadians
Role: Co-Principal Investigator
Amount funded: $41403
Year Funded: 2013
Duration: 1
Funded by: Other...
Other funding: Exploration Funds, North York General Hospital
Interactive computer-assisted screening (iCAS) for depression in primary care.
Role: Principal Investigator
Amount funded: $89933
Year Funded: 2013
Duration: 1
Funded by: Canadian Institutes of Health Research
Interactive Technologies for Mental Health in Primary care
Role: Principal Investigator
Amount funded: $300000
Year Funded: 5
Funded by: Canadian Institutes of Health Research
Reaching under/never-screened and hard-to-reach populations.
Role: CoInvestigator
Amount funded: $700000
Year Funded: 2011
Duration: 3
Funded by: Other...
Other funding: Cancer Care Ontario
The Cardiovascular Health Awareness Program (CHAP) for the South Asian community in York Region: Assessing volunteer participation and the gender and ethno­specific impacts
Role: Co-Principal Investigator
Amount funded: $679339
Year Funded: 2013
Duration: 3
Funded by: Canadian Institutes of Health Research
Transformative community-based primary healthcare initiative
Role: CoInvestigator
Amount funded: $2496974
Year Funded: 2013
Duration: 5
Funded by: Canadian Institutes of Health Research
Curriculum Vitae (C.V. file):