Georg R Zoidl
Professor
Canada Research Chair Tier IMolecular and Cellular Neuroscience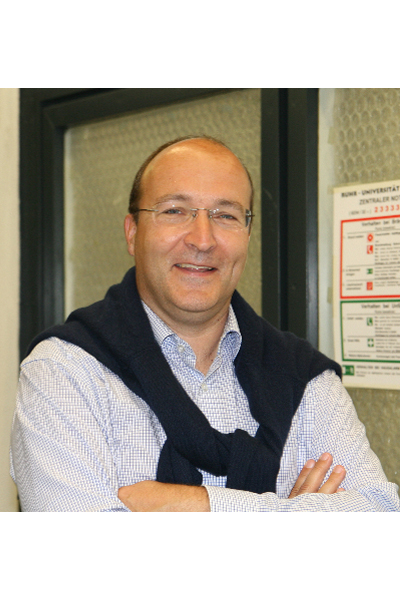 Locations / Contact Info:
323AKeele CampusPhone: 416-736-2100 Ext. 22136
Email address(es):
Faculty & School/Dept.
Faculty of Health - - Department of Psychology
Science and Engineering -
Degrees
Master - 1986
University of Cologne
Germany
PhD - 1991
University of Essen
Germany
Privatdozent - 2006
Ruhr University Bochum
Germany
Biography
07/2011-today: Full Professor for Molecular Neuroscience and Canada Research Chair (Tier I), York University, Toronto, Canada

2009-2011: Appointed Member of the International Graduate School for Biology and Biotechnology (IGB), Faculty of Life Sciences, RUB, Germany

2007-2011: Acting Director, Dept. Cytology (Medical Faculty, RUB, Bochum)

10/2007: Promoted to "Akademischer Rat" (Medical Faculty, RUB, Bochum)

2007-2011: Appointed Member of the Bochum Research School

01/2006: "Venia Legendi" (Habilitation) for "Neuroanatomy and Molecular Brain Research"

06/2004: Appointed Member at the International Graduate School for Neuroscience (IGSN), Ruhr-University Bochum, Germany

1997-2011: Group leader (C1): Molecular Brain Research Unit", Medical Faculty, Ruhr-University Bochum (Head of Department: Prof. Dr. med. R. Dermietzel)

1995 - 1997: Senior Research Fellow, Dept. of Anatomy and Developmental
Biology (Group: Prof. Dr. R. Mirsky, Prof. Dr. K.R. Jessen, University College London, London, England)
1990 - 1995: Research Fellow/Postdoc, Neurochemisches Labor, AG Molekulare Neurobiologie, Neurologische Universitätsklinik der Heinrich-Heine-Universität Düsseldorf (Group: Prof. Dr. rer. nat. H.W. Müller)
Selected Publications
2018 (* HQPs Zoidl lab)
1: Greb H, Klaassen LJ, Schultz K, Kamermans M, Zoidl G, Weiler R,

Janssen-Bienhold U. An alternative splice variant of zebrafish cx52.6 is

expressed in retinal horizontal cells. Neuroscience. 2018 Jul 23. pii:

S0306-4522(18)30499-8. doi: 10.1016/j.neuroscience.2018.07.024. [Epub ahead of print] PubMed PMID: 30048782.
2: Whyte-Fagundes P*, Kurtenbach S*, Zoidl C*, Shestopalov VI, Carlen PL, Zoidl G. A Potential Compensatory Role of Panx3 in the VNO of a Panx1 Knock Out Mouse Model. Front Mol Neurosci. 2018 Apr 26;11:135.
3: Peimani AR, Zoidl G, Rezai P. A microfluidic device to study electrotaxis and dopaminergic system of zebrafish larvae. Biomicrofluidics. 2018 Feb

7;12(1):014113.
4: Whyte-Fagundes P,* Zoidl G. Mechanisms of pannexin1 channel gating and regulation. Biochim Biophys Acta. 2018 Jan;1860(1):65-71.
Affiliations
Krembil Research Institute
Afffiiated Researcher
Awards
Canada Research Chair (Tier I) - 2011
Supervision
Currently available to supervise graduate students: Yes
Currently taking on work-study students, Graduate Assistants or Volunteers: No
Available to supervise undergraduate thesis projects: Yes
Current Research
Project Area 1: Role of Electrical Synapses in Vision
Project Area 2: Role of Electrical Synapses in Neuronal Plasticity: From Genes to Function
Project Area 3: Development of Zebrafish Models of Neurological Disorders
Research Projects
Role of Electrical Synapses in Vision
Role: Principal Investigator
Year Funded: 2012
Duration: 5
Funded by: Natural Sciences and Engineering Research Council